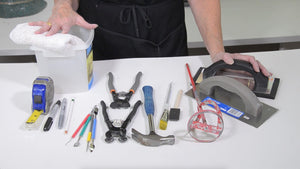 Free One-Hour Recorded Webinar
Mosaics are so much fun and can become addicting. In this free 1-Hour recorded webinar, Lou Ann will take you through what you need to know. You will learn about:  

Tools you will need - their basic use, function, and sources

Materials used in mosaics - their function, attributes and sources
This recorded webinar will give you the best, most informative overview of mosaics so you will be prepared before you start your first one. 
FREE EBOOKS! After you download the webinar, you will also get an email with the link to our 2 FREE E-Books: "Getting Started in Mosaics" and "The Book on Mosaic Backers" so check your email. 

After you watch the webinar, Lou Ann will continue to help you with questions and information to help you navigate your way through a very fulfilling and rewarding art form via Chat or email.

This is a recorded webinar. Please note since it is a full one-hour recording, it has a lower resolution so you can download it, but all the information is still excellent.